The Cornish Language: an Kernowek or an Kernewek
Cornish Links · Educational Links
Cornish language - Wikipedia, the free encyclopedia

The Cornish language (in Cornish: Kernowek, Kernewek, Curnoack) is one of the Brythonic group of Celtic languages (Brythonic also includes Welsh, Breton, ...
Cornish College of the Arts: degrees in art, dance, design ...
One of the top visual arts and performing arts colleges in the nation offering BFA degrees in Art Dance Theater Design Music and Performance Production ...
Sydney Road pub featuring live music 7 nights a week. Built in 1850's, now offers lunch and dinner menu, courtyard area and pool table.
Literature in Cornish (Directory/North America/United States/Maine/Cornish/arts/Literature) - Worldwidirectory.com
Cornish directory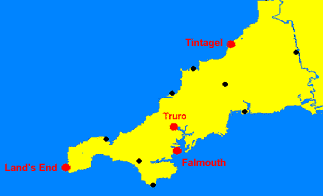 Introduction : Literature 1350-1611 : Literature in Dialect : Stories : Site Coordinator : History : English Home : Links counterclockwise-prenuptial
in Kernowek/Kernewek : en francais : auf Deutsch : in italiano : Home
---
The Cornish Language: an Kernowek or an Kernewek.
Bespoke web design, search engine optimisation and online marketing by Broadband Media · Cloud Hosting by Netramp
©1997-2019 Penglase.com All rights reserved.